As a divorced woman, I know well the trials and tribulations of this life event. Most of us don't think about our earning power when we marry. Our lives are full of many things beyond career- from home to relationships and children. So when divorce happens, and money begins to demand our serious consideration, we are often awash in fear and confusion.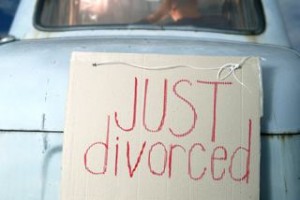 Of course it is more than just earning money that commands our attention. After exiting a marriage that may have spanned many years, many women are unsure of how to manage their personal finances when it is just them. What does this new life even cost? And the emotions run very high as a new financial reality becomes apparent. Often, we do not have the financial resources to maintain the lifestyle we potentially took for granted for many years.
But earning issues eventually come up when you no longer have a partner who can contribute to the monthly expenses. For years I've written about "underearning"- when people earn below their potential. Sometimes women earned less than they could because their energy went into their homes and families. Other times, they may have been earning good money but they simply need to earn more now, to support their lifestyle on their own.
So on top of the practical new reality of being single, they are often angry and overwhelmed at their ability to command the amount of money they suddenly see they need.
Here are three tips:
First, take time to think carefully about what you actually need to earn. I've helped many women craft a spending and income plan for their new life that looks at their new expenses. Often I have women track their spending for a while before creating a plan, so we can see what is actually happening- the new bills, their lifestyle etc. We also look at new forms of income such as child support and spousal maintenance. Then we look carefully to see what needs to be earned.
So consider tracking your spending so you can get a deeper sense of what you actually need.
Knowing what you need to earn is powerful. It can help you decide everything from what type of job you are looking for to deciding if you will keep the house, and what to do with certain expenses. You don't want to much financial pressure as you re-build your new life. Now is the time to assess the lifestyle you will build for the next several years.
Second, when thinking about applying for work, asking for raises, or getting contract jobs, do the research on what you can command. I can't emphasize this enough- don't trust your gut!!! When left to their own imaginings, women de-value their work and don't ask for enough money. Most women suffer from this, but divorced women even more so. Often, their self-esteem is down, and they may not have been working in the same way during their marriage. So they frequently make the mistake of not asking for enough money.
Let the market guide you, not your gut. Trust me. An employer is extremely lucky to have you. Make sure you do your research and talk to knowledgeable friends before accepting anything. You are worth more than you likely feel.
Last, stop worrying about being "behind". I've talked with many clients over the years who lament being behind men in the earning game. Let this go. Many women hit their career strides much later than men, but this isn't necessarily a bad thing. Men can start to sputter and worry about other things. While they secretly bemoan hair loss and other age-related "men-fears", women are often kicking ass and doing amazing work.  Women in this phase of life are extremely powerful. We are like a mighty phoenix rising from ashes and are capable of commanding a lot of money and respect.
A final word- consider your new life support team. Ideally, divorcing women would benefit from a therapist, a job coach and money coach. We are all unique, of course. But this is a time when you deserve support.
Your new life awaits.
---
Join Mikelann's list to be notified of upcoming earnings programs.
---
Want more help transforming your relationship to money? Check out all the eBooks, audios, and more robust products Mikelann has created. Are you ready to break free of the "money fog" and step into earning what you are worth? Are you are ready to get in touch with your emotions so you never feel out of control around money again? Are you ready to love your financial life? Let Mikelann help you get there. Free items are at the top of the page.